Posted Date : 14 Jan 2008
Malaysian Rating Corporation Berhad ("MARC") has launched its new corporate logo on 8 January 2008. The new brand identity was officially launched by Y. Bhg. Dato' Zarinah Anwar, the Chairman of the Securities Commission, in conjunction with MARC's Annual Cocktail held at Hilton Hotel Kuala Lumpur. MARC's new brand identity projected by the corporate logo reflects greater dynamism in moving forward. The revitalised corporate identity communicates the traits of resilience and sustainability.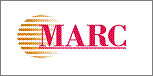 In line with this transformation, MARC has also adopted a new tagline:-
"Clarity and Integrity"
En. Mohd Razlan Mohamed, the Chief Executive Officer of MARC said "These changes communicate our strong commitment to produce, generate and disseminate ratings that are relevant and reliable. Our rapidly changing environment and the challenges posed by uneven access to information in credit markets create a need to provide ratings that are clear, transparent and prospective."
MARC believes that clarity is essential in our communication of credit opinions and views integrity as the cornerstone of our credibility. Our commitment to building analytical competencies and upholding integrity is echoed in our new tagline.
MARC started its operations in 1996 and has since made significant inroads into the Malaysian corporate bond market, especially in the rating of Islamic debt securities. As at 31 December 2007, MARC has cumulatively assigned a total of 527 ratings valued at RM215 billion comprising of corporate debt, asset-backed securities, project finance, structured finance, corporate credit and financial institutions' and insurance companies' financial strength ratings.
For more information, please contact Ms Shanizar Shahar or Ms. Rahimah Rahim, Business Development, Malaysian Rating Corporation Berhad at 03-20925398 or fax at 03-20939308 or email us at shanizar@marc.com.my or rahimah@marc.com.my.