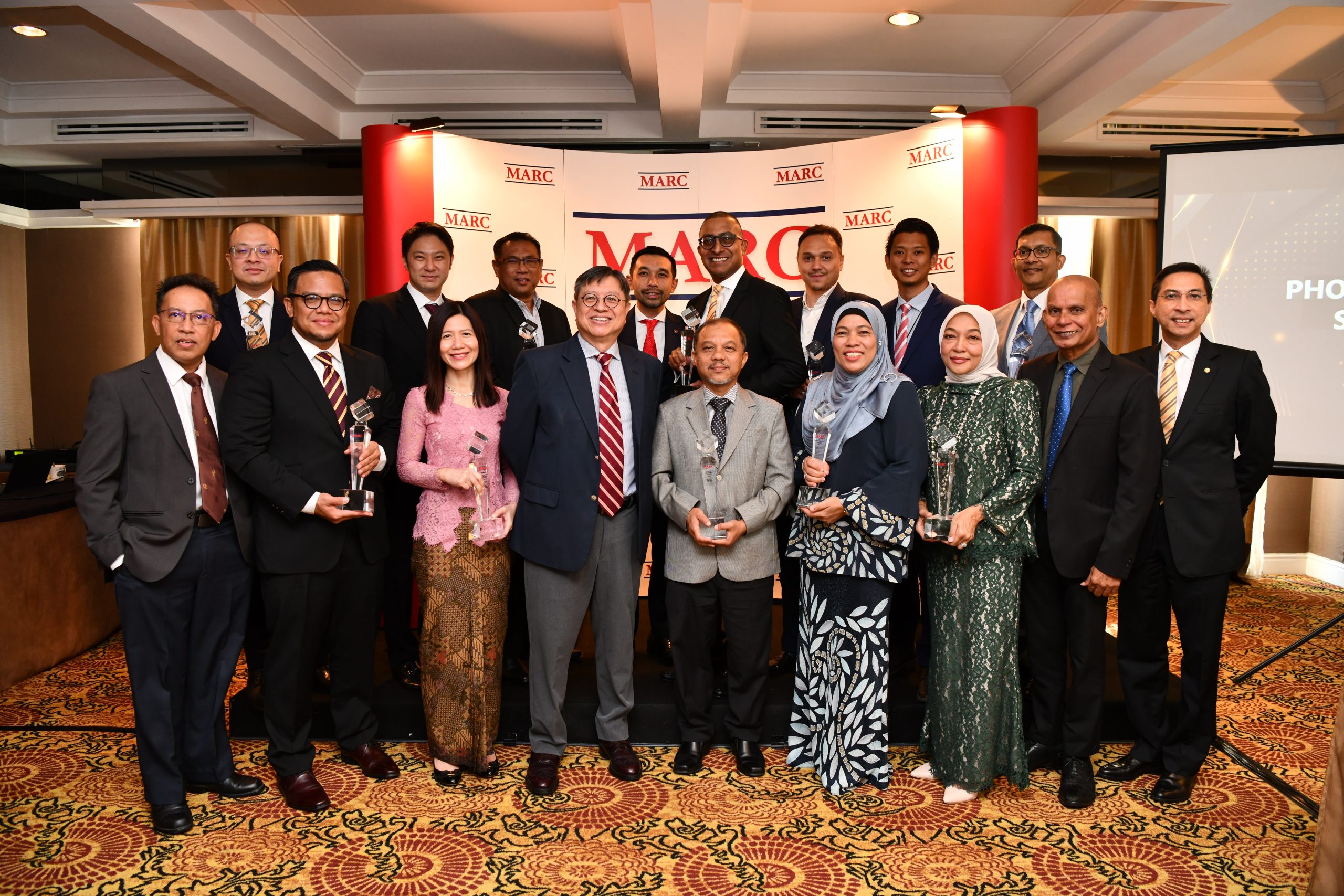 Malaysian Rating Corporation Berhad (MARC), one of Malaysia's financial services providers, recognised exceptional performers in its 2022 Lead Managers' League Tables during a prestigious awards ceremony held at The Majestic Hotel Kuala Lumpur recently. These league tables, published annually, evaluate lead managers based on the volume and number of lead-arranged issuances rated by MARC Ratings in a specific year.
Maybank Investment Bank Berhad emerged as the leader in the issue count league table of debt and sukuk programmes/issuances rated by MARC Ratings. Following closely behind, CIMB Investment Bank Berhad secured the second position, while RHB Investment Bank Berhad and HSBC Amanah Malaysia Berhad secured the third place as joint winners.
In terms of issued value, CIMB Investment Bank Berhad claimed the top position in the 2022 Lead Managers' League Tables. Maybank Investment Bank Berhad secured the second spot, with RHB Investment Bank Berhad attaining the third position.
Notable corporates involved in deals rated by MARC Ratings were recognised in separate categories.
Projek Lebuhraya Usahasama Berhad or also known as PLUS, was recognised with the prestigious MARC's Sukuk of the Year Award for its outstanding achievement. The company's RM25.2 billion Islamic Medium-Term Notes (MTN) Programme has been acknowledged as the world's largest single-rated sukuk issued by a corporate. With its ownership and operation of the vital North-South Highway, which has been serving the nation since 1986, PLUS has established itself as an integral part of Malaysia's transportation infrastructure. Given its significant contributions and prominence, PLUS is undoubtedly a deserving recipient of the MARC's Sukuk of the Year Award in 2022.
Meanwhile, Amanat Lebuhraya Rakyat Berhad was honoured with the prestigious MARC's Innovative Deal of the Year Award for its ground-breaking highway trust model, which is the first of its kind in Malaysia. This innovative structure eliminates cash outflow or compensation payments from the government while enabling significant toll rate savings for highway users. The highway trust model has generated considerable attention and has been widely regarded as a win-win solution for concession holders, the government, and highway users in the long term. Despite being the first sukuk structure of its kind, the issuance was successfully launched in the market, leading MARC to select Amanah Lebuhraya Rakyat Berhad as the winner of the MARC's Innovative Deal of the Year Award in 2022.
In previous years, the Project Financing Award has typically been won by independent power producers (IPPs) and concession-based projects that are considered crucial to Malaysia's economic growth. However, this year, MARC has made a noteworthy adjustment by including a "Sustainability" element in the selection criteria. As a result, the award was presented to TNB Power Generation Sdn Bhd for their Nenggiri hydro power plant project. This IPP project stands out from previous winners due to its incorporation of sustainable practices. In recognition of its commitment to sustainability, the project has also received a "Gold" Sustainability Sukuk Assessment on its Sustainability Sukuk Framework by MARC. This demonstrates the project's dedication to environmental and social responsibility, aligning it with the growing global focus on sustainable development.
The MARC's Sustainability Award 2022 was presented to Point Zone (M) Sdn Bhd, a subsidiary of KPJ Healthcare Berhad. This esteemed award recognizes Point Zone's comprehensive sustainability initiatives, which are aligned with KPJ Healthcare's dedication to addressing gaps in the healthcare sector. During the assessment process, MARC observed that KPJ Healthcare demonstrates a high level of assurance in implementing and performing sustainability measures, particularly in terms of environmental, social, and corporate governance (ESG) risk management for eligible projects and activities. In 2022, no other client stood out more than KPJ Healthcare in terms of their commitment to providing real access to essential healthcare services. They are truly deserving of this recognition for their outstanding sustainability efforts.
"I would like to extend my heartfelt congratulations to all the award recipients today. Your dedication, resilience, and unwavering pursuit of excellence have set new benchmarks within the industry. Your contributions to the capital market have not only enhanced the growth of your institutions but have also propelled the entire nation to greater heights", said Datuk Jamaludin Nasir, MARC's Group Chief Executive Officer.
"Malaysia has made significant strides in promoting Islamic finance which has emerged as a crucial component of Malaysia's financial landscape, attracting investors seeking Shariah-compliant investment opportunities".