Posted Date : 18 Feb 2008
Based on published credit ratings in the domestic bond market, new bond issues with a total value of RM116.05 billion were rated in for 2007. MARC's published ratings account for RM82.15 billion of the RM116.05 billion in value terms, comprising RM64.95 billion dual-rated new bond programmes and RM17.20 billion single-rated issues.
A breakdown of the total rated bonds programme for the first nine months of the year is illustrated below:-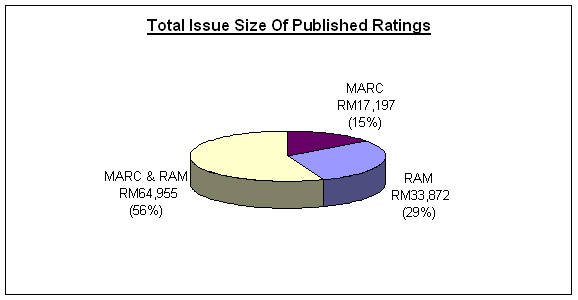 In addition to the completed and published ratings posted in the 3rd quarter of 2007, MARC has also completed and published new ratings in the last quarter of 2007 namely Hong Leong Financial Group Berhad's RM800 million Conventional CP/MTN programme, Tesco Stores (M) Sdn Bhd's RM3.5 billion Islamic/Conventional CP/MTN and Sime Darby Berhad's (formerly known as Synergy Drive Berhad) RM1.65 billion Murabahah CP/MTN and Underwitten Murabahah CP.