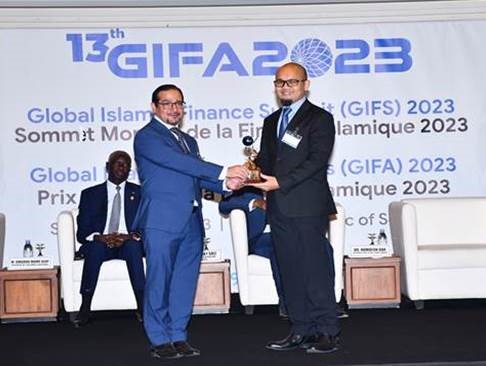 Professor Dr Humayon Dar, Chairman of GIFA (left), presenting the "Best Islamic Rating Agency 2023" award to Sharidan Salleh, MARC's Senior Head of Ratings Portfolio for Oil & Gas and Power (right).
Malaysian Rating Corporation Berhad (MARC) today announced that its subsidiary, MARC Ratings Berhad, has been honoured with the prestigious title of "Best Islamic Rating Agency 2023" at the esteemed Global Islamic Finance Awards (GIFA) held recently in Senegal. The 13th annual awards ceremony witnessed the gathering of over 250 distinguished individuals from the global financial industry, where more than 60 awards were presented to various organisations and individuals in recognition of outstanding performance in the Islamic finance sector.
Datuk Jamaludin Nasir, the Group Chief Executive Officer of MARC, expressed his gratitude and excitement over this achievement, stating, "We are immensely honoured to be named the 'Best Islamic Rating Agency 2023' at the Global Islamic Finance Awards. This recognition reaffirms our commitment to providing accurate and reliable credit ratings. We owe this success to our dedicated team that has consistently strived for excellence in all aspects of our business."
MARC Ratings' track record in assessing the creditworthiness of Islamic financial instruments and institutions has played a pivotal role in fostering investor confidence and facilitating the growth of the Islamic finance industry. This award underscores the company's significant contributions in the continued development of Islamic finance.